We don't know what we don't know?
As a family historian and genealogist, I marvel as I learn about the lives of our ancestors. Where did they live, how'd they get there, who were the immigrants, in what country were they born? The mysteries uncovered, layer by layer, page by page, with each document a new discovery. Every family has stories, grains of truth within, and passed down from one generation to another. . . Often I hear "we don't know anything, our parents and grandparents never discussed the past." So this is where I come in with the research, no preconceived notions about them and their lives. I use the research to flesh them out and find those nuggets of truth from the stories their descendents might've been told. . . I do this research for my own family as well as my husband's family and others who've hired me to assist in their research. Now you've the idea, and I'll tell you another story, it's a doozie, stay with me here…
By now you've no doubt seen the commercials on TV about DNA testing. Ancestry.com, 23andMe, to name a few. We decided to have our DNA tested, about 3 years ago, to add this information to our own family trees. We then expanded the DNA testing, adding my mother, and mother-in-law. Realizing neither my father nor father-in-law were alive, I decided to ask my Dad's sister, and my husband's paternal Aunt to each do the DNA. I'd purchased the kits and mailed them. You get the idea; I've also sent kits off to other older cousins to work on verifying the family research. Now for the rest of the story…
During the summer of 2013, during a visit with Scott's Uncle Jim in Minnesota, Jim told him "the story."
Jim pulled out a high school year book and began to share … turns out Scott's father Jack had a high school sweetheart, during his junior and senior year. We knew Jack went away to St. Cloud after graduating from Forest Lake High school in 1954. We also know Scott's father and mother met in 1956 and married in 1957. What we didn't know was the "rest of the story," as Paul Harvey used to say…
Jim went on to share; Jack and his girlfriend had a child, possibly born in 1954 or 1955. Jim shared the photographs and some notes from the yearbook, and background on them during high school. Scott shared the story with me, and then with his brothers. This meant they might have a brother or sister they never knew, but knowing adoptions during this time were often closed and no way for us to get information. Uncle Jim passed away a few months after sharing the story, November 2013.
Scott and I did some research on the sweetheart of Jack's and had decided we'd leave it all alone as we didn't know anything else and didn't want to disturb her at this time.
January 2017 Scott and I were discussing the story once again, and he asked, "If the baby did a DNA test, would we know and be able to verify the relationship?" I said yes, the baby would have to do the DNA test we'd be notified of the "relationship," and could initiate contact if desired.
April 2017 we were planning an annual road trip, this year back once again to Minnesota to visit the cousins. We'd talked some more about the baby and the birth mother, and decided, let's write the birth mother and see if we can share a visit, and see if she'll share the story we already knew, or if she'd simply share more about Scott's father during their high school years. I typed up a letter, planning to print and mail it the first week of May before we left on our trip.
April 27th we welcomed our 6th grandchild in to the family, and were riding high on the emotion, little Miss Cassidy was born just 7 weeks after our 5th grandchild, Grayson. 2 babies in 7 weeks, what a whirlwind ride!
Just 2 days later we received the news we'd known might come our way, the baby found us, no not our new grandbabies, "the BABY" …
Here is what was in my email Saturday morning April 29th at about 6am, while making my coffee and getting things together for a large breakfast, my girlfriends were sleeping, here for a weekend visit.
I read the email message, recognized it immediately from the messaging service at Ancestry. As I read the message, the feeling overwhelmed me, I started to shake and cry as the adrenaline rush hit me,
oh my, oh my, oh my, as I read, "I was adopted, born December 24, 1954 in Minneapolis, and Ancestry DNA says we're a close match!" The baby found us, the baby isn't a baby, it's a girl, she's Bonnie, Bonnie found us, she matches the DNA of Scott, of his paternal aunt, Kathy and a 2nd cousin, Michelle. WOW, I was floored, it worked, and she found us!
One by one my girlfriends came up for air and coffee in the early hours, I was still shaking and crying, and each one said "what, what? did someone die?" "No she was born, she was born to us today, Scott and his brothers have a sister!!!!" I was then able to pull myself together about an hour later and tell them all the "story." What a joy, and what a fabulous group of women to share it with, they grew up with me, and they went to high school with Scott and me, they know both of us. They were all over this; we decided I had to wait for Scott to wake before I floored him with the email from his new sister!
The email had been sent the night before about midnight, and I'd read it at about 6am. Wow a sister, Scott has a sister. I was able to finish my coffee, and verify a few things on the Ancestry website showing the brand new match for Scott & the others matching Bonnie.
Scott was up about an hour later, and came out the room where we were all sitting, and said good morning to all the ladies, then looked at our faces and said "what, what?" I started to cry again, once more he said "what?" I then said "the baby found us, the baby, you have a sister, she did the DNA, and she found us?" To say he was stunned was an understatement, completely, utterly floored, he kept saying, "really, are you sure??? More coffee, and we read the email again and again, and showed him the DNA match. Time to reply to Bonnie's message.
The messages are sent via Ancestry's messaging system, and the match shows only initials, Bonnie later said she'd no idea who she was messaging nor the relationship.
Sharing here the initial messages:
Close family match - Just got my DNA results and there is a high probability that we are close relatives. I am adopted so it's exciting to learn this. I was born on Dec. 24, 1954 in Minneapolis. I would appreciate any information you could give me. Thank you so much.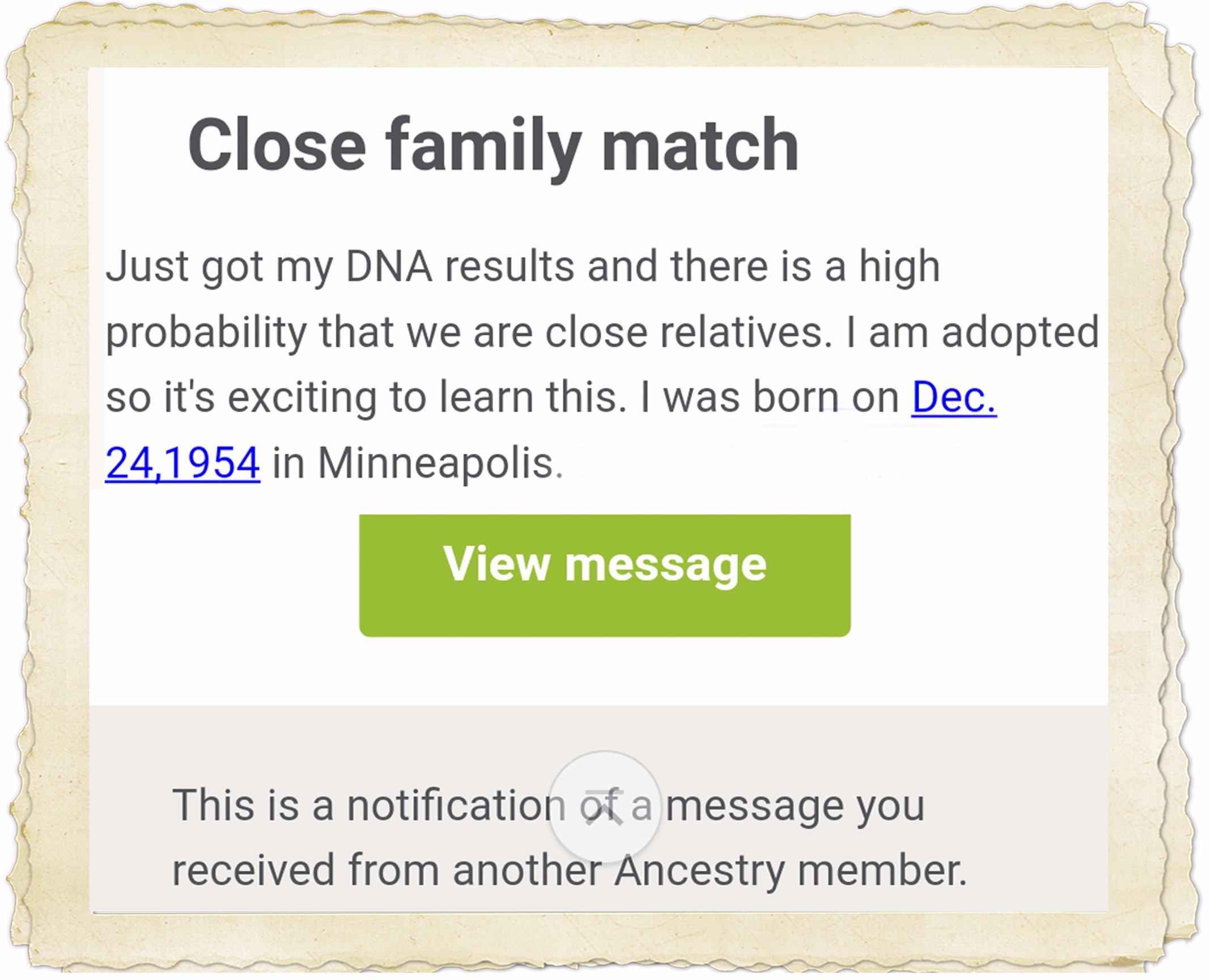 Apr 29, 2017
Dear Bonnie,
We learned of the possibility of your existence only 3 years ago. We've been hoping and waiting for this message. Welcome, I am Linda, you are matching my husband. I believe you're his sister.
Apr 04/29/17 1:31 PM
Dear Linda,
You can't imagine how surprised I was to get your message. When I sent in my DNA sample I was just doing it to know more about where I was from. In fact I didn't really know that I might be given matches. So this is all really crazy. Being adopted I've never been very interested in genealogy and ancestry because I always felt that I'd never really know. And honestly my adoptive parents were wonderful and always very open about everything. I never had a lot of curiosity about the situation. That being said I'm thrilled at the prospect of finding out about my birth family.
Where do you live? I live in Cedar Rapids, Iowa. I'd love to find out more about your husband. So I'm assuming that he is my birth mothers son... is that correct? Please fill me in as much as possible. And feel free to ask me anything you're wondering about.
Apr 29, 2017, at 4:15 PM
Dear Bonnie, sister-in-law, WELCOME. Surprised as much as you, yes we are...
The relation is your birth father, unfortunately he died in 1979. You've a large extended family, including 5 brothers, 4 living. They will be thrilled to hear they've a sister. Scott is my husband, as he says now, no longer the oldest. Your birth father, John Francis Trudeau 8-1-1936 / 12-4-79, he was called Jack. We'll get to the rest soon enough. They were raised in MN, before moving to CA in the, 70s where we live now… It's a lot to take in for all of us, and as I said we only learned the story 3 years ago. Small pieces, tag you're it! Linda
Our emails were back and forth for a day…Sunday the 30th; we all decided it was time for a phone call. Scott decided he'd make the call, he must've held that phone for 15 minutes before he dialed. "Hi Bonnie, this is your brother Scott, long time no talk," and the ice was broken. They spoke for over an hour, then it was my turn… here we were, all floored, flabbergasted, OMG, OMG, OMG, talking to "the Baby."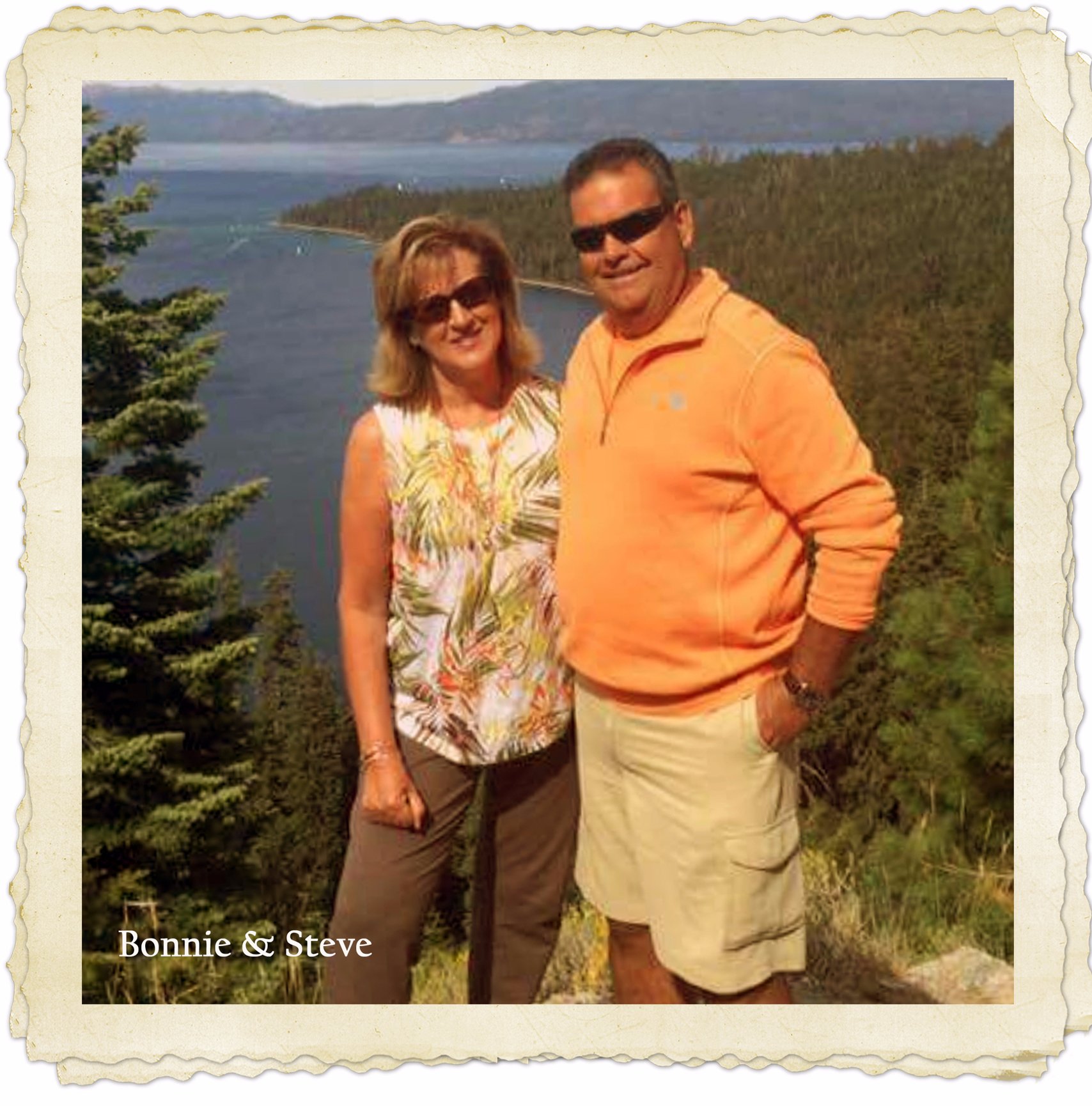 Scott filled her in on the family, her birth father, her brothers, the families. She did the same, her family, and grandchildren. One of the pictures she sent, looked like Lake Tahoe, she confirmed it was indeed, she and her husband have visited there every year for the last decade. She and her family live in Cedar Rapids, IA. Scott told Bonnie he'd camped just a few miles from her home 2 years ago. The strangeness was wearing off, and amazement setting in…
These are some of the images we sent back and forth, her birth father Jack and then some of Bonnie as a baby and little girl. . .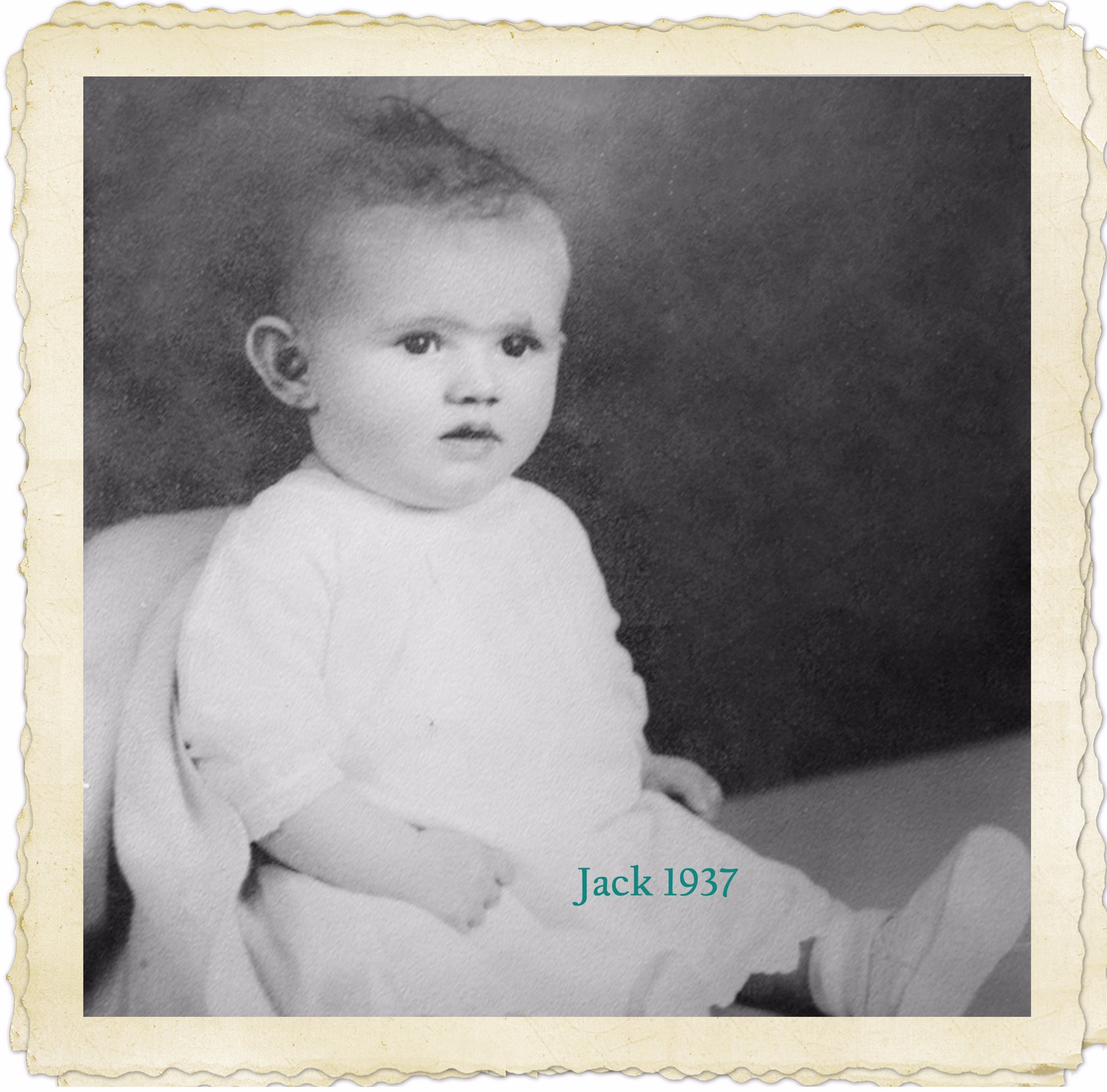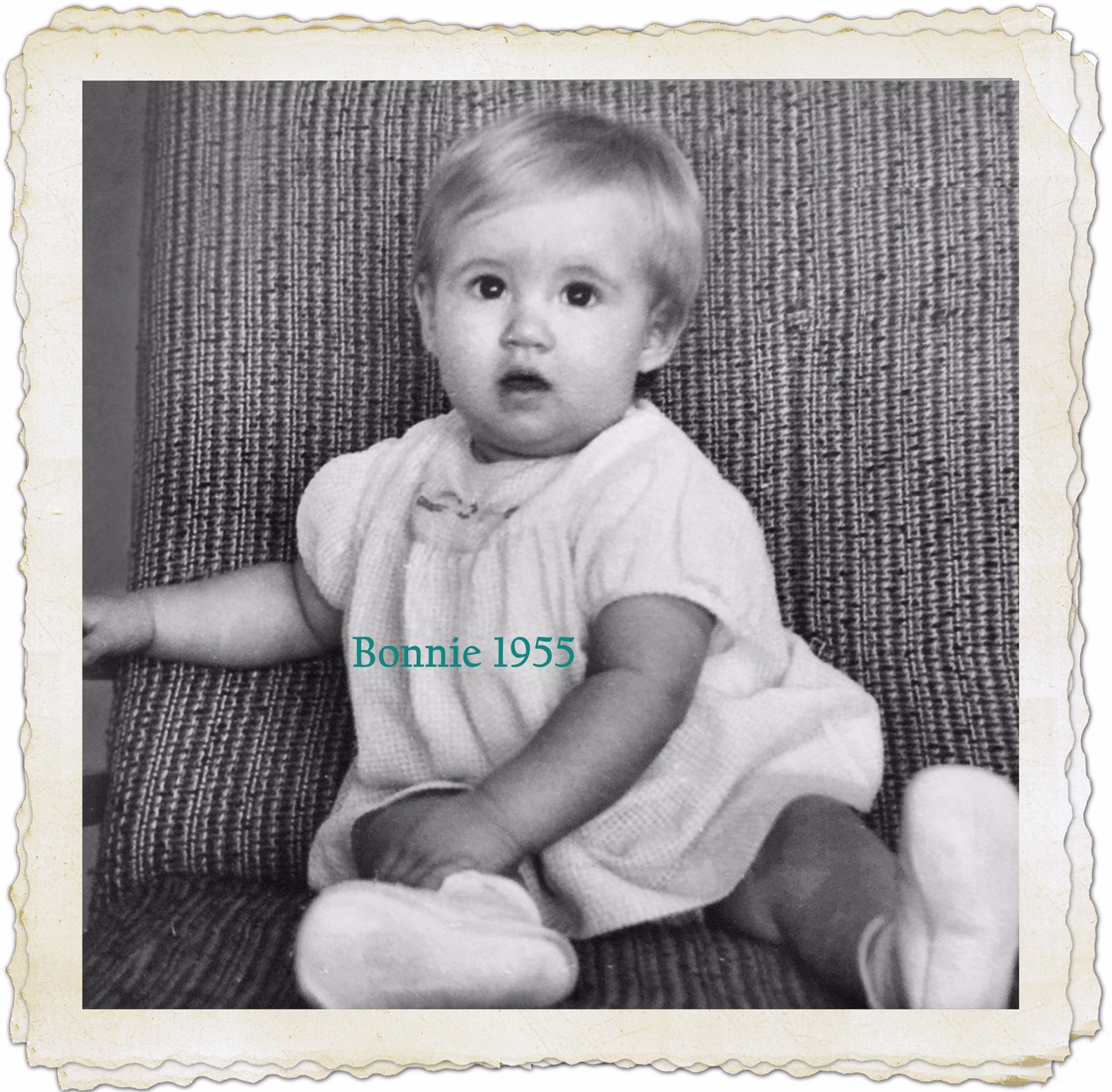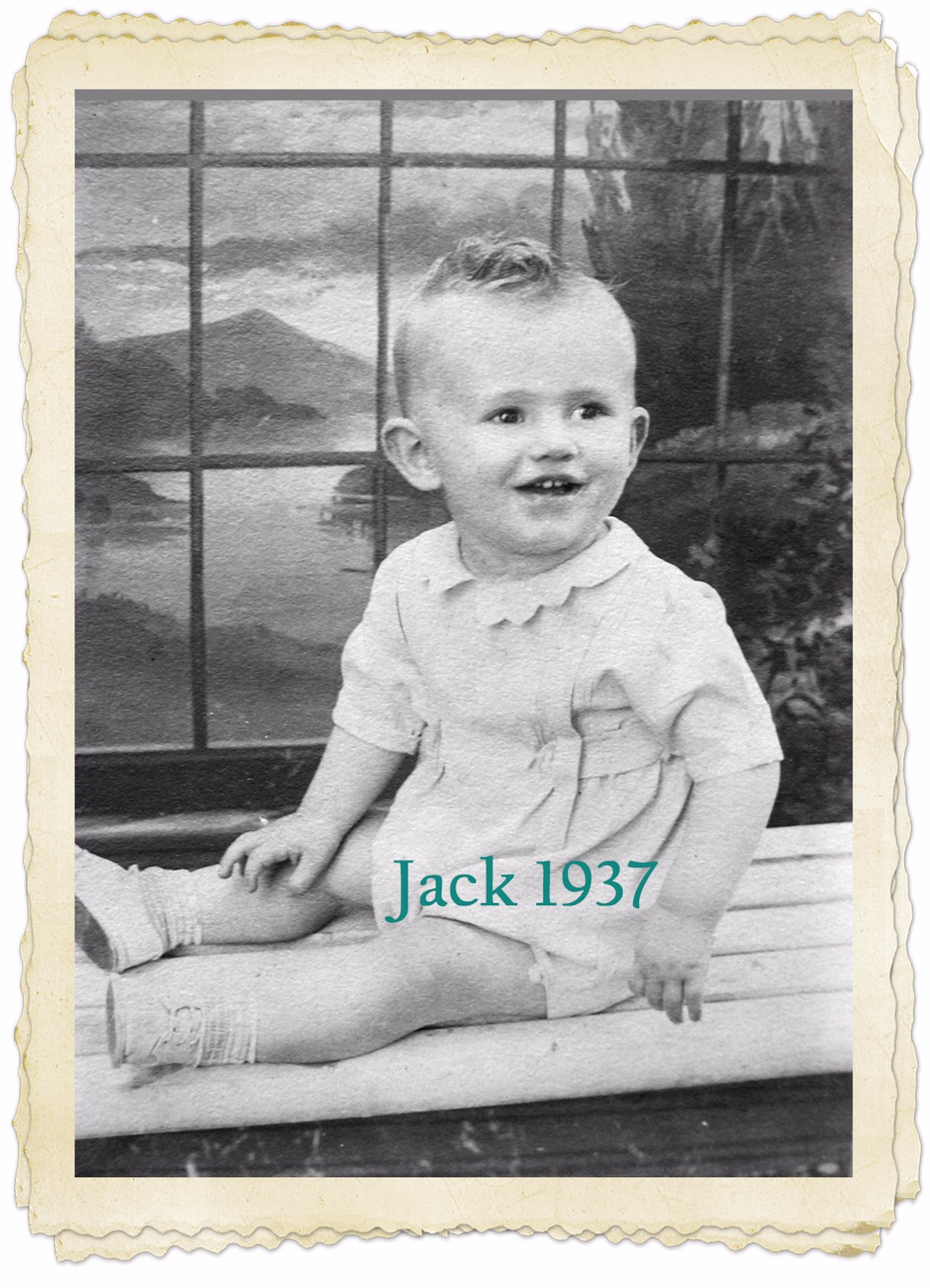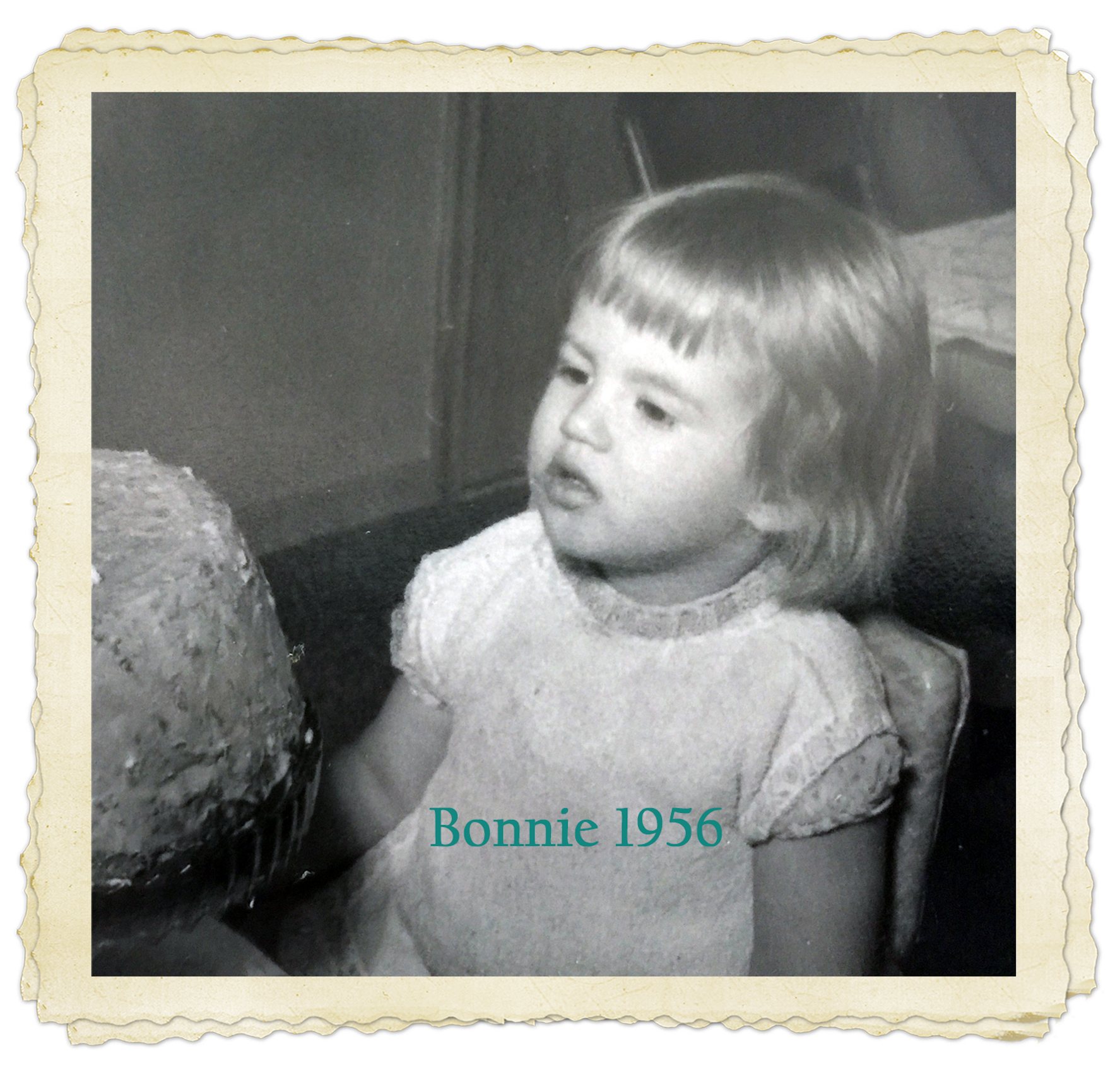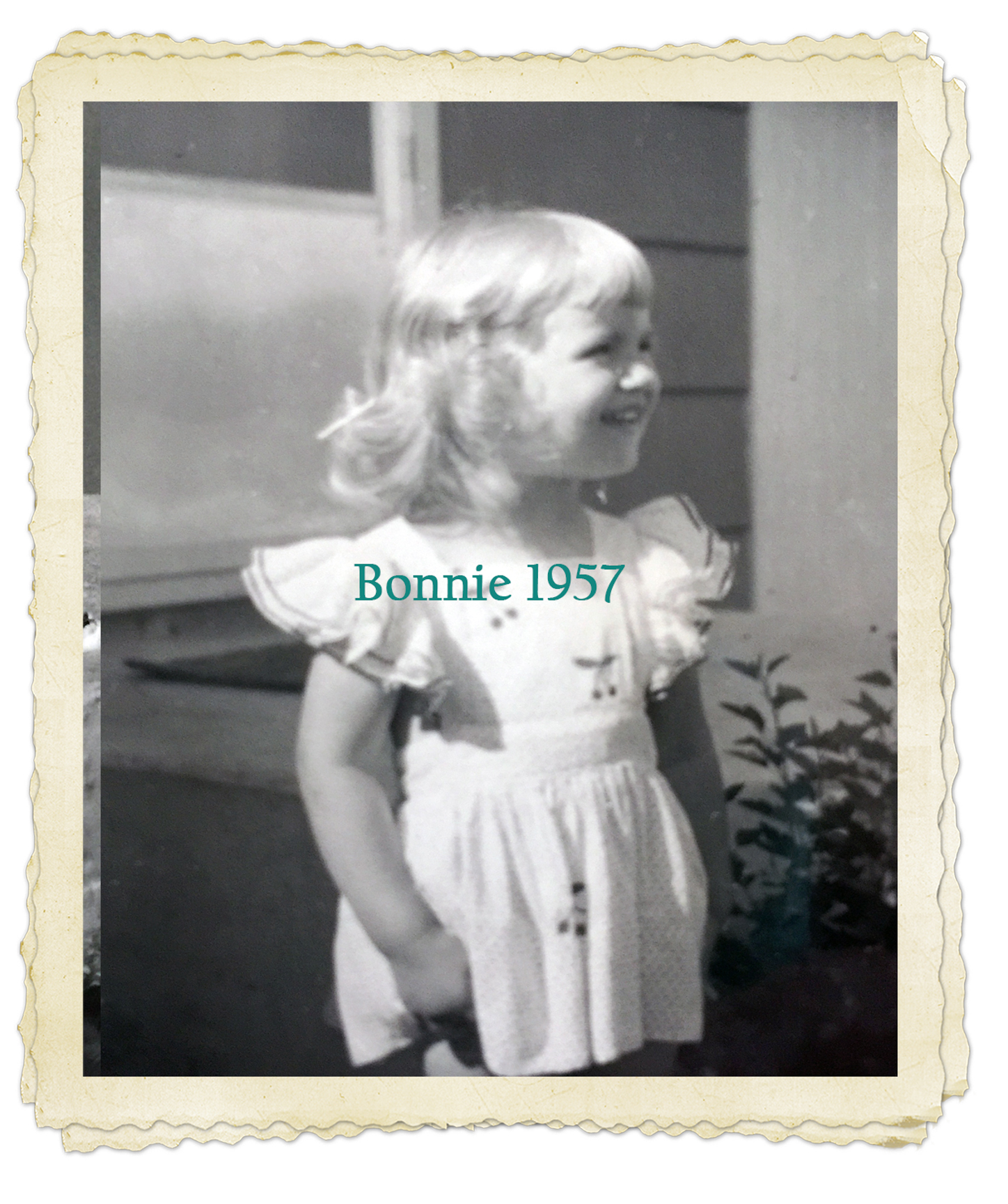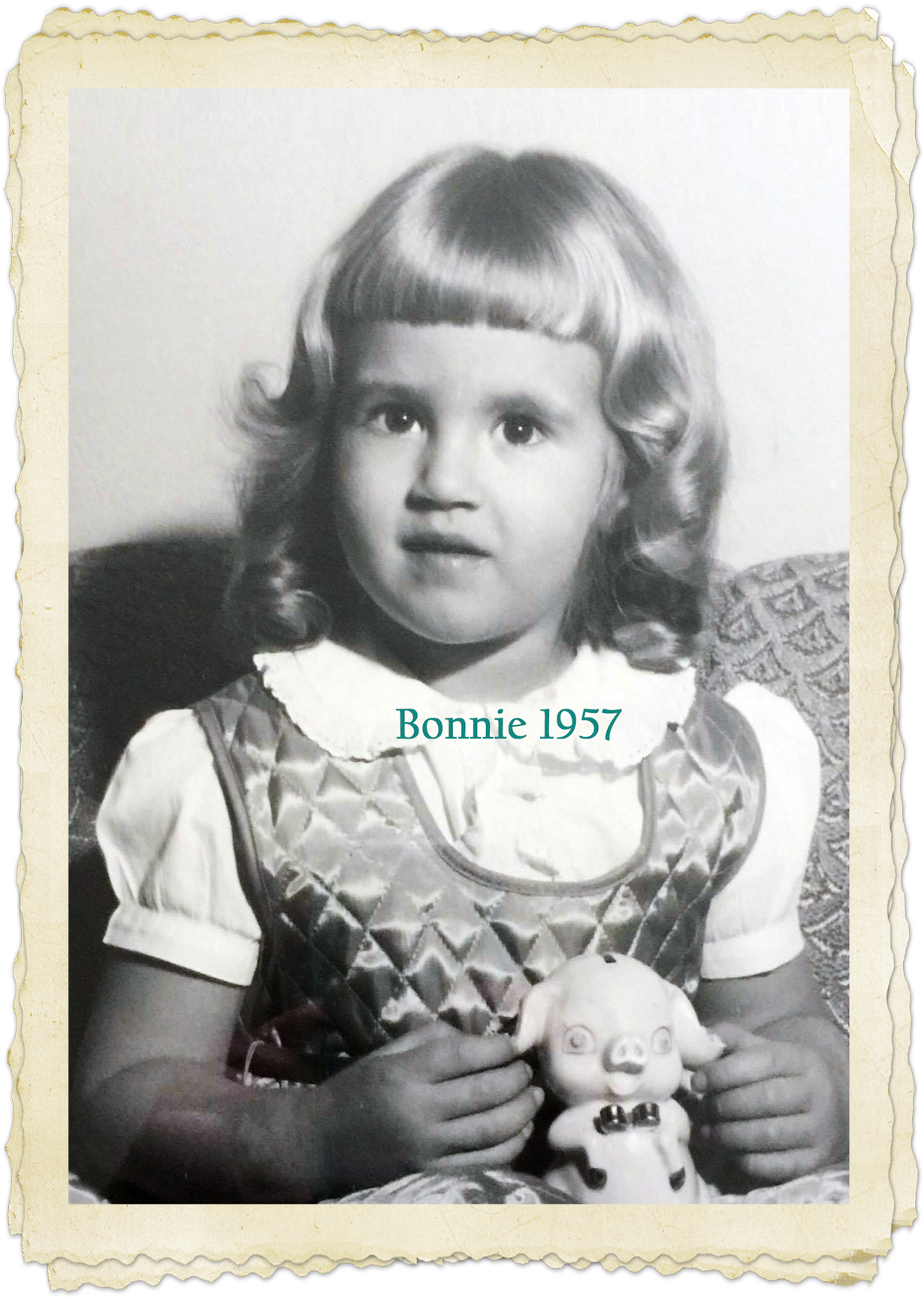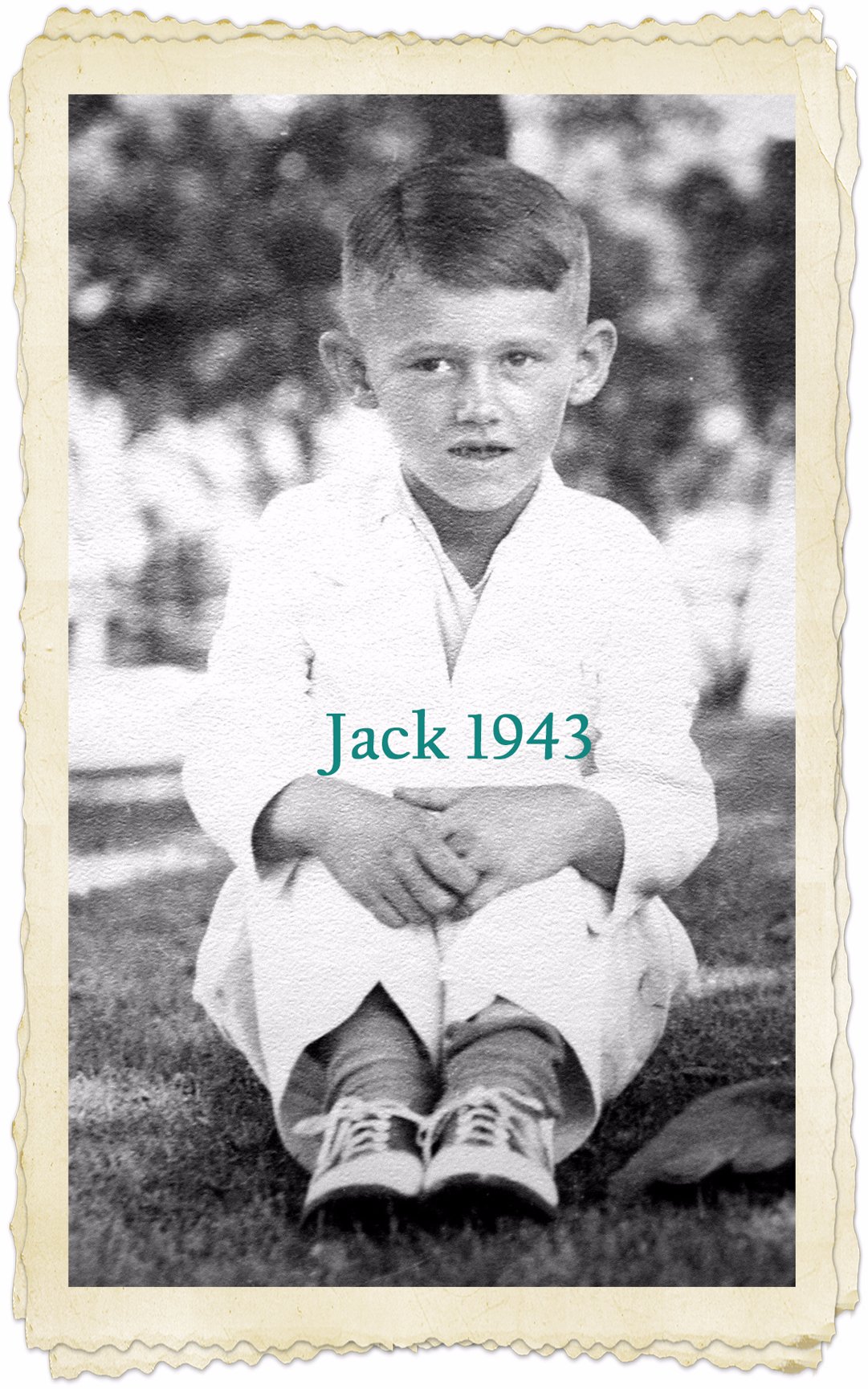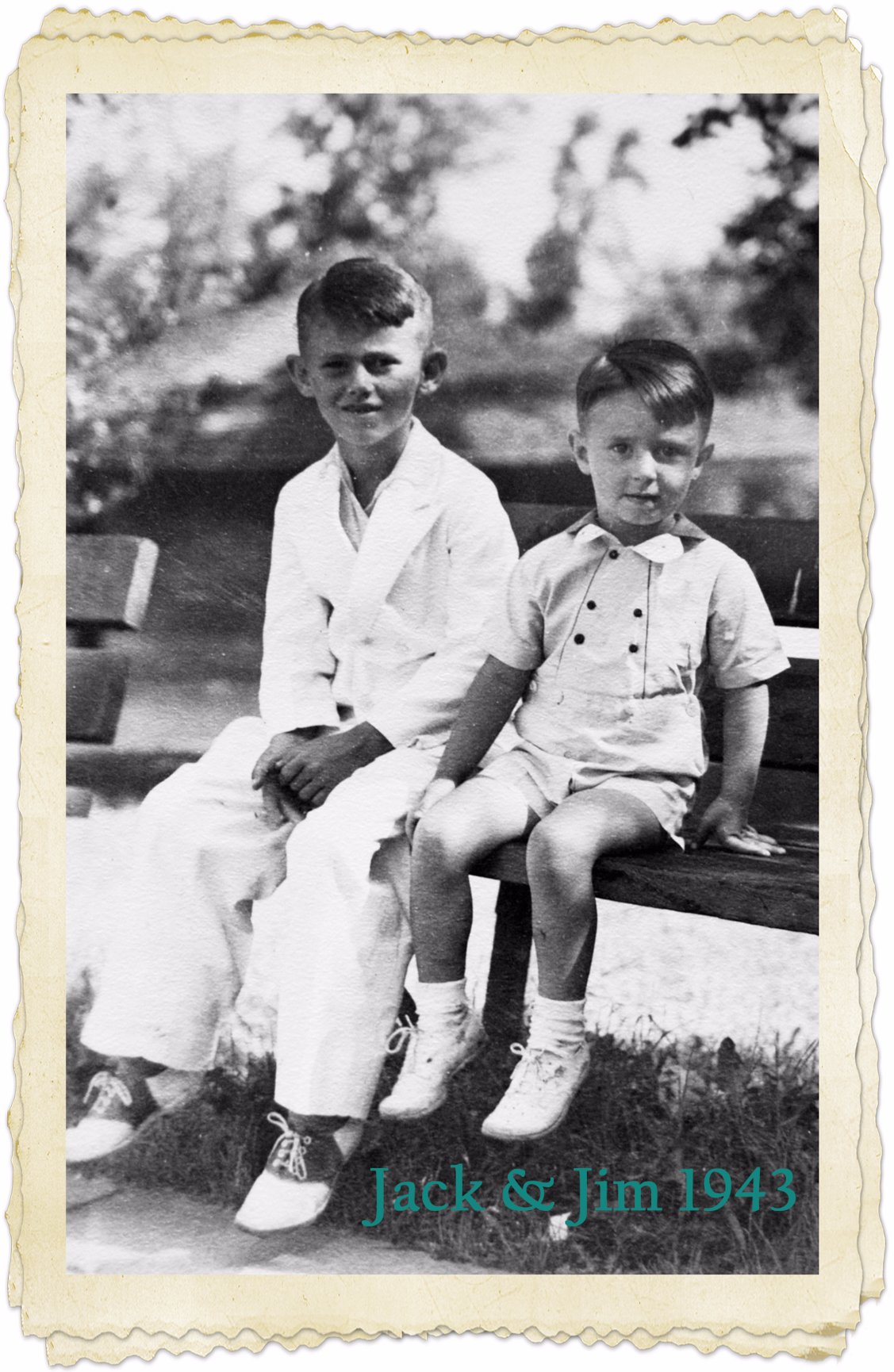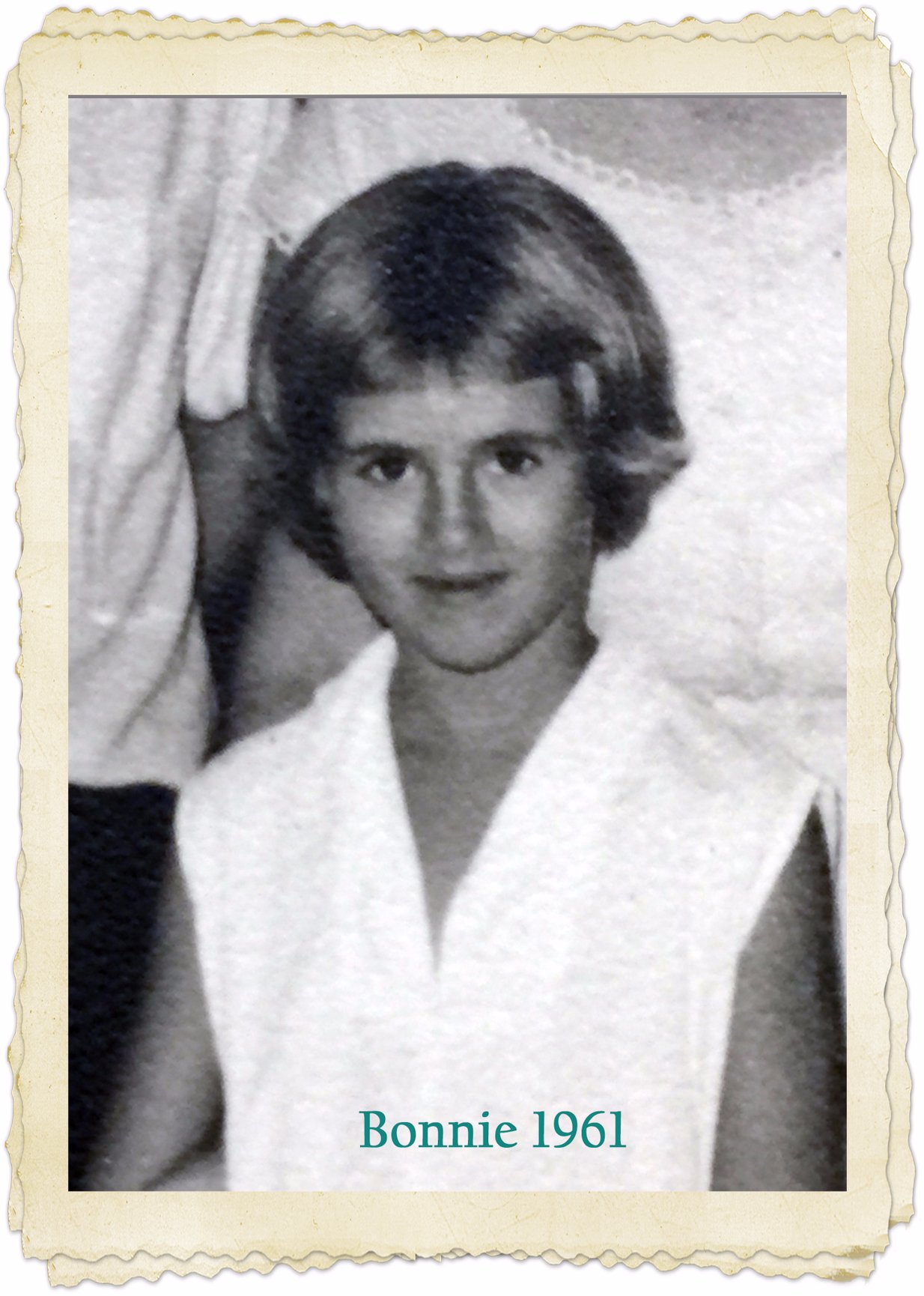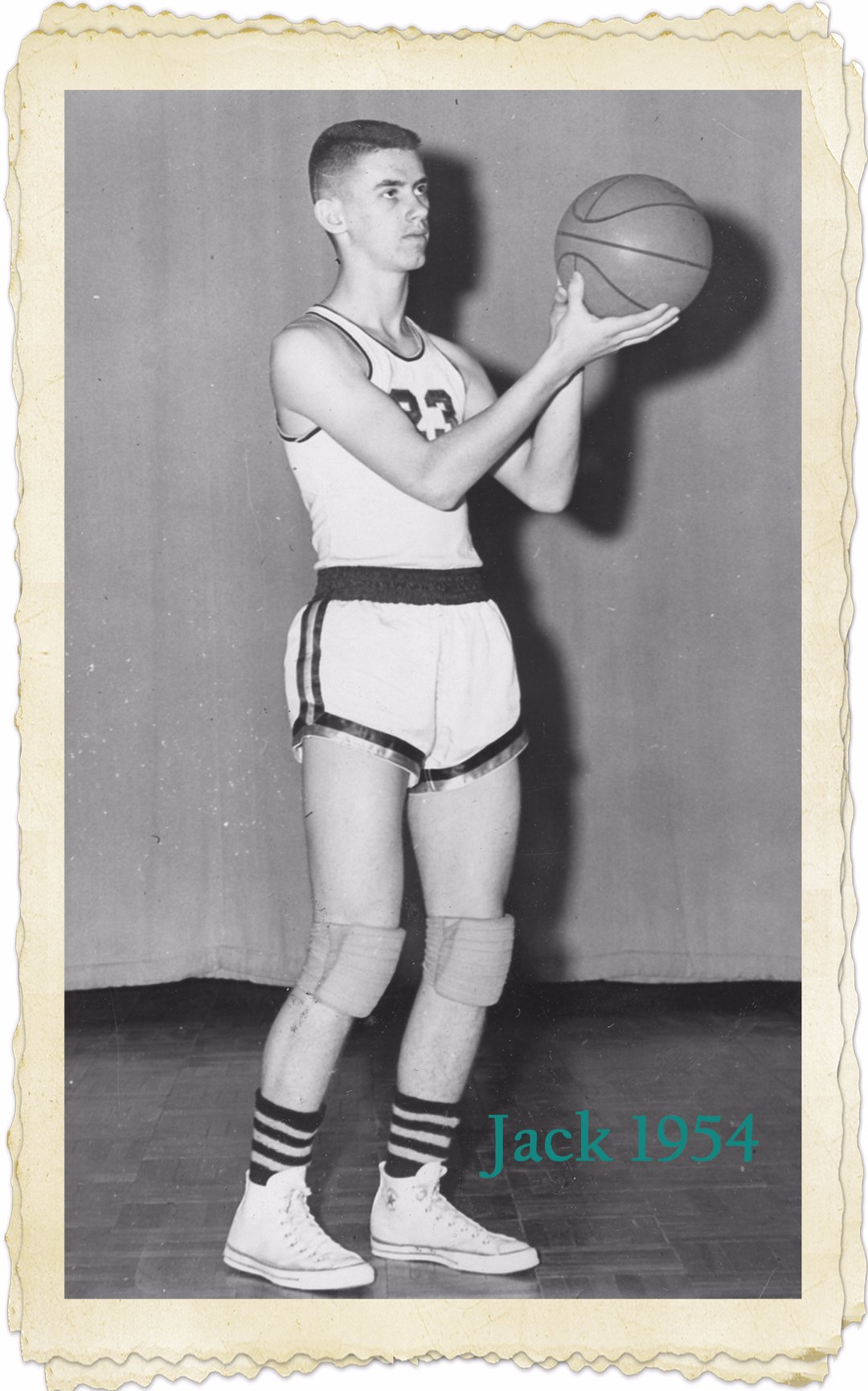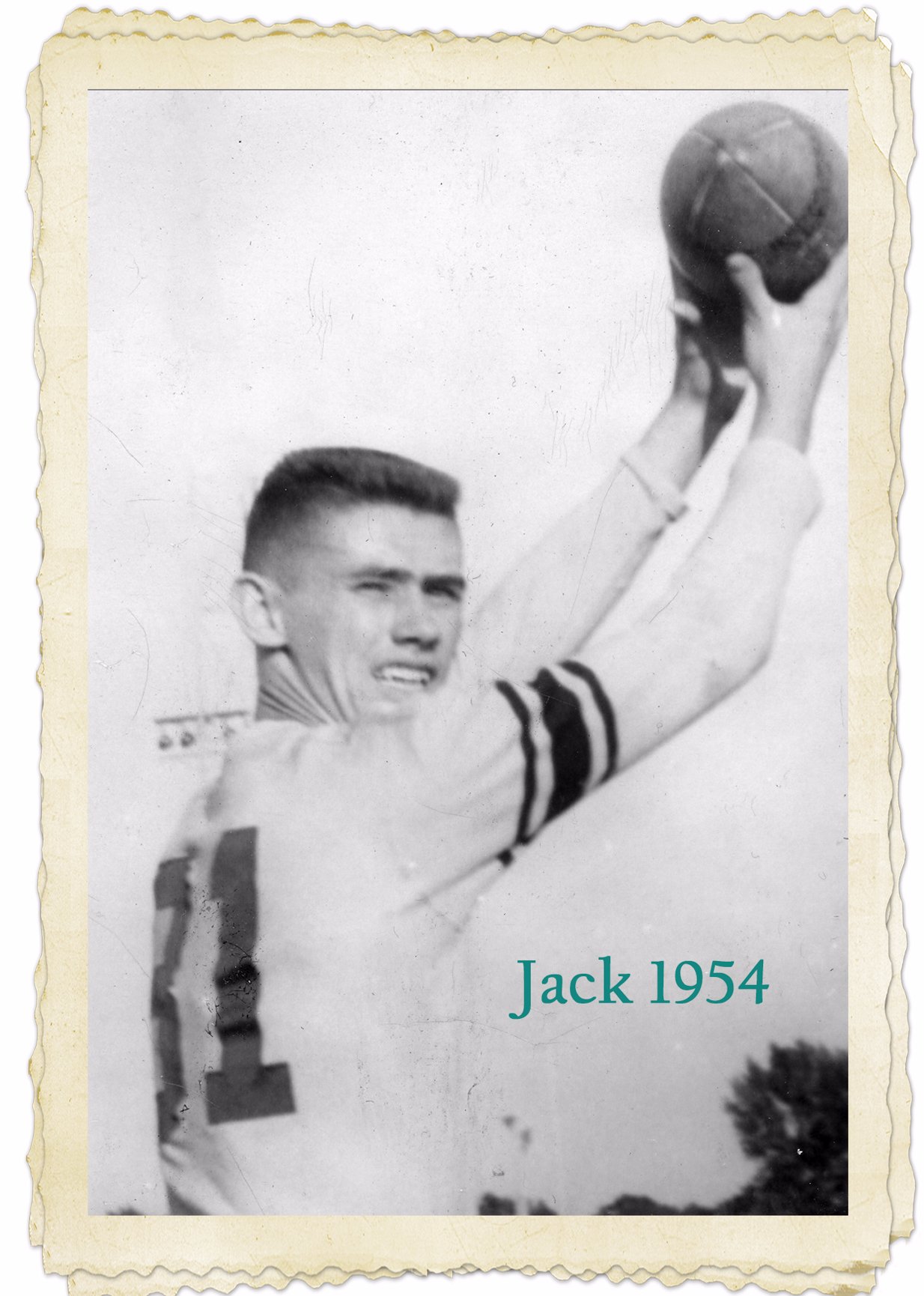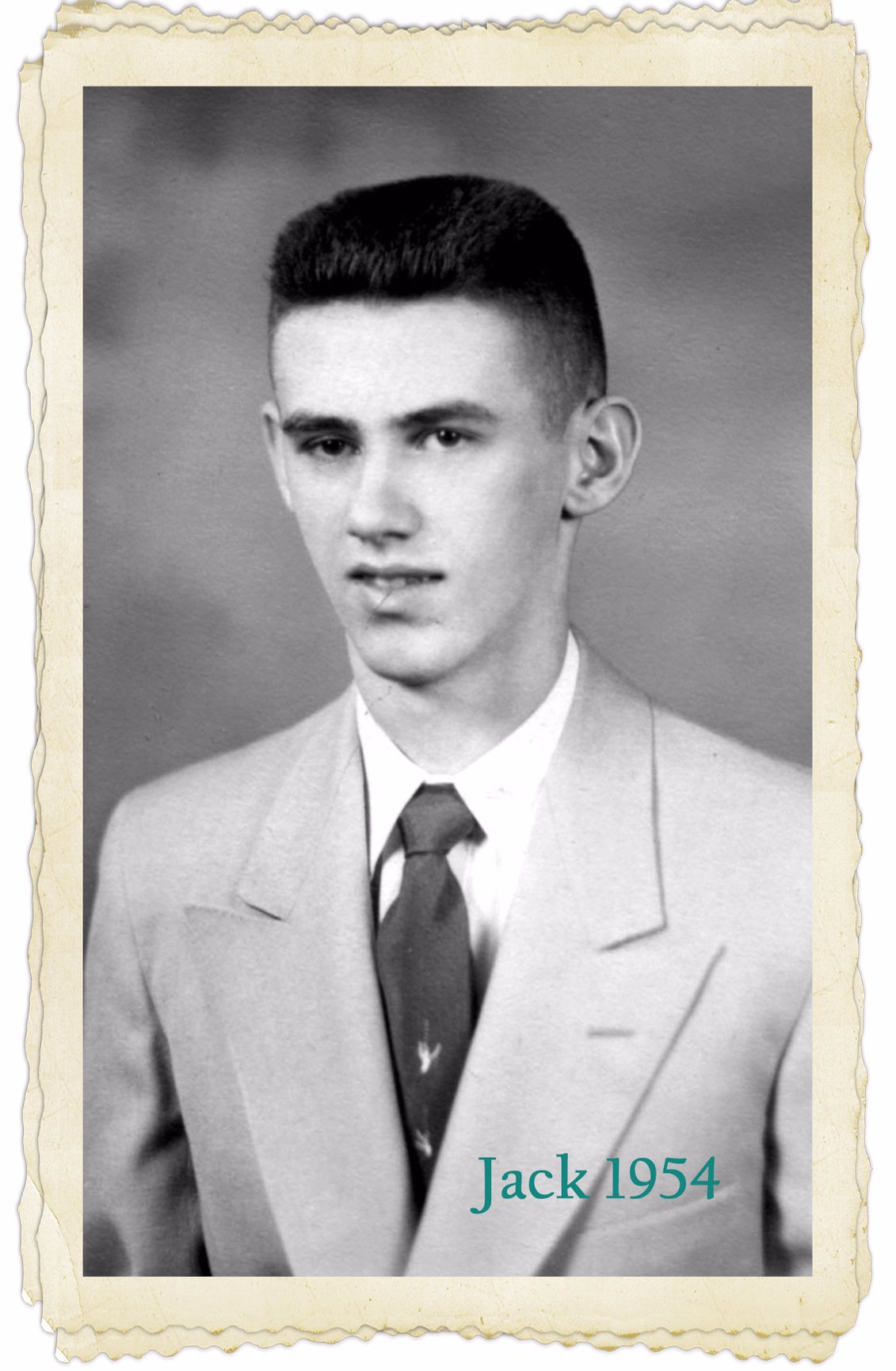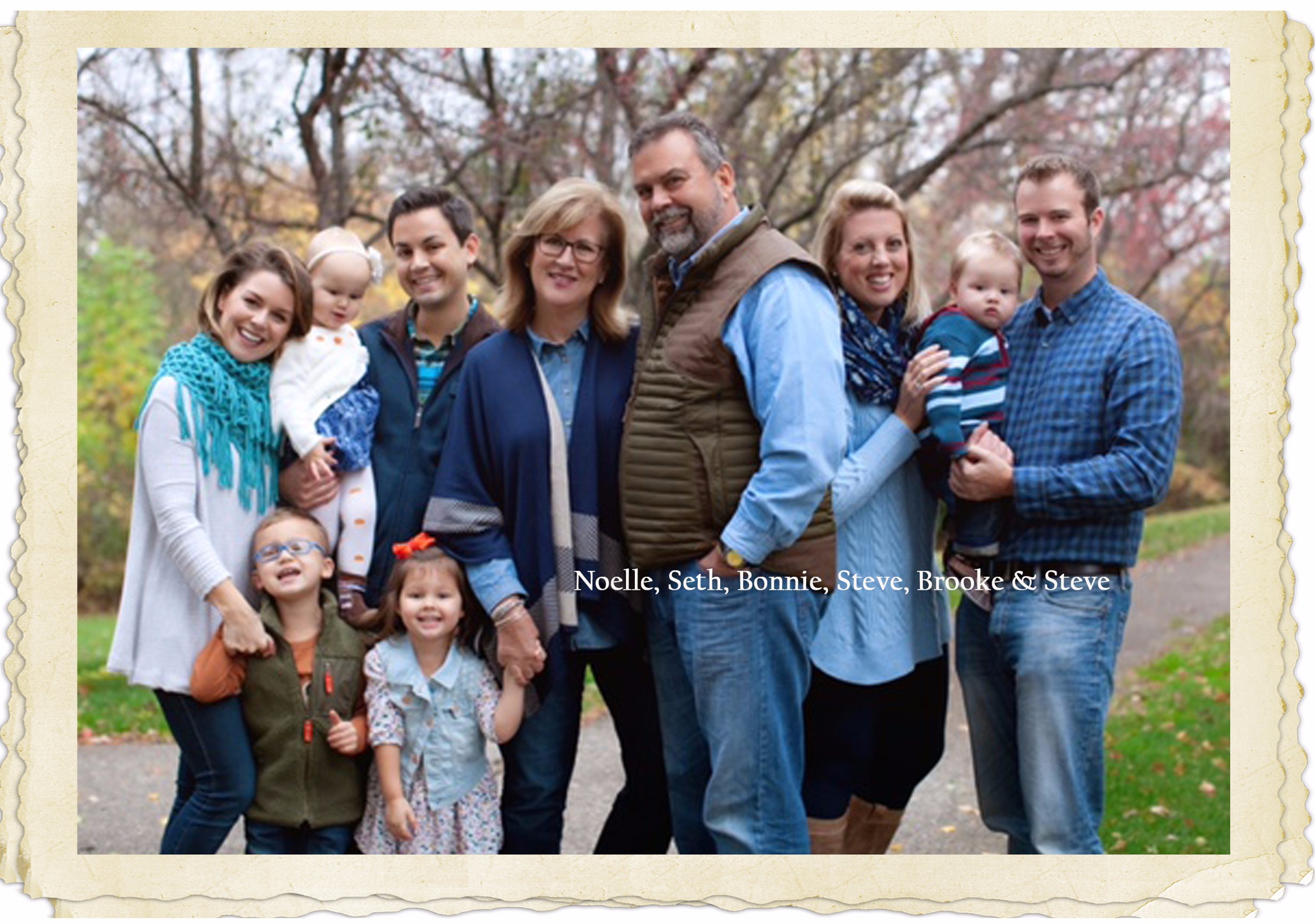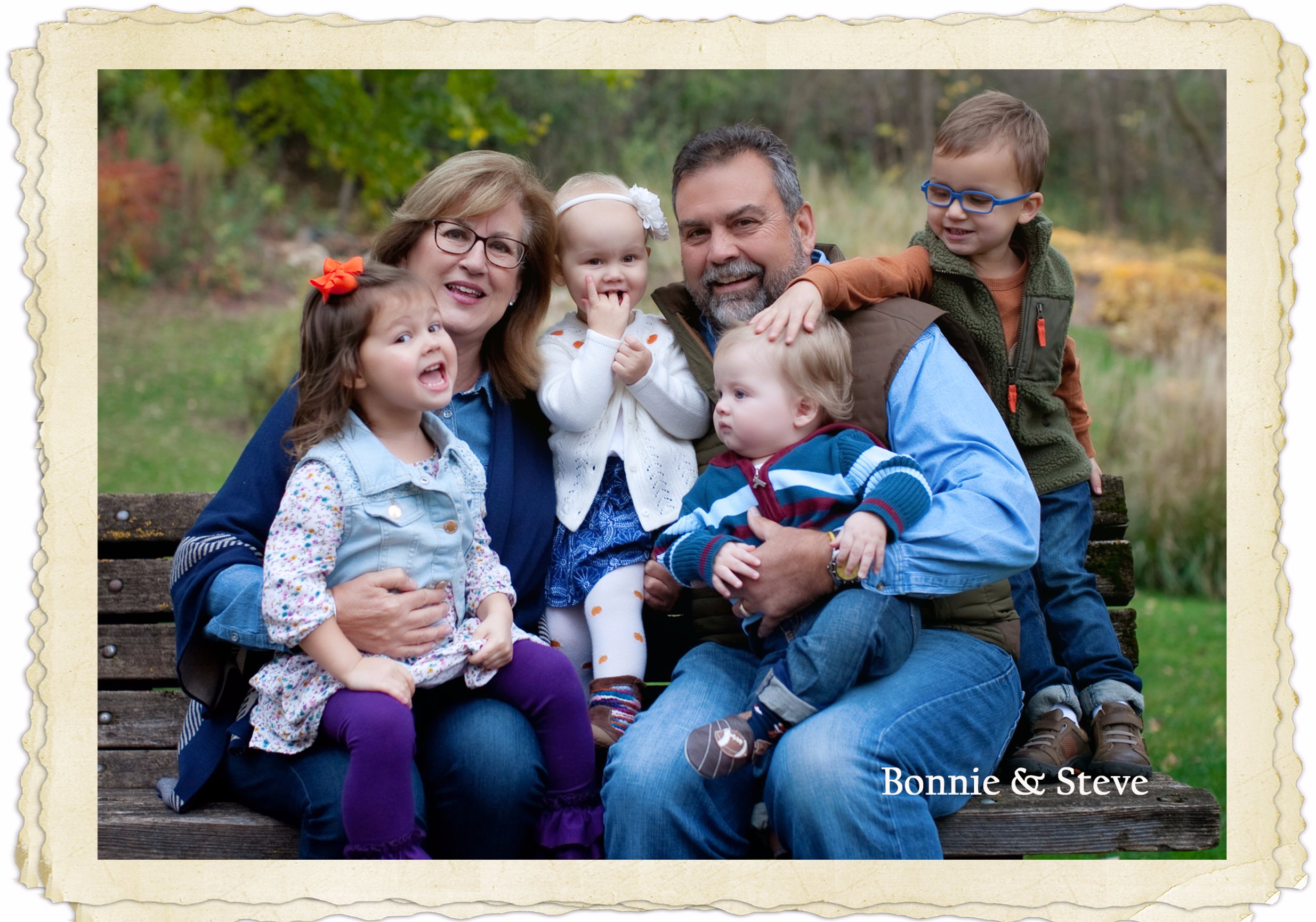 We'd had our summer tour planned, but we'd not named it, now we did, "re-calculating." Our timing changed due to various factors, we found we weren't going to be able to meet up on the first leg of our trip heading east to Indiana, as she was going to be in Minnesota. We were going to be in Iowa just east of her home, told her we'd meet up with her husband Steve and share a meal, he could scout us out, and apparently he told her the same thing, Bonnie gave us all a resounding, "No" … we have to wait … We waved as we passed the Cedar Rapids water tower.
The date was set for the meet-up, Monday June 12th in Forest Lake. We were there with the cousins for a golf tournament, and Bonnie's children live an hour away. The wait and anticipation was nearly unbearable, but we managed. The conversations every day during our weeks of waiting, what if, how about this, we wondered this or that … another phone call here or there, lots and lots of text messaging and Facebook messaging. Scott & Bonnie were on the same page with all of the questions. With the daily messaging, the same ideas were popping up between all of us …
The day arrived, we were nearly undone from the anticipation, the nervousness, what if … and Bonnie said she was feeling the same way. Scott & Jack went to get "pink" balloons, and came back with one that said "It's a girl," Carol got a cake; we had the kitchen full of food. We knew the cousins were going to be coming in at different times during the day, so she wouldn't be overwhelmed and we'd have a quieter start.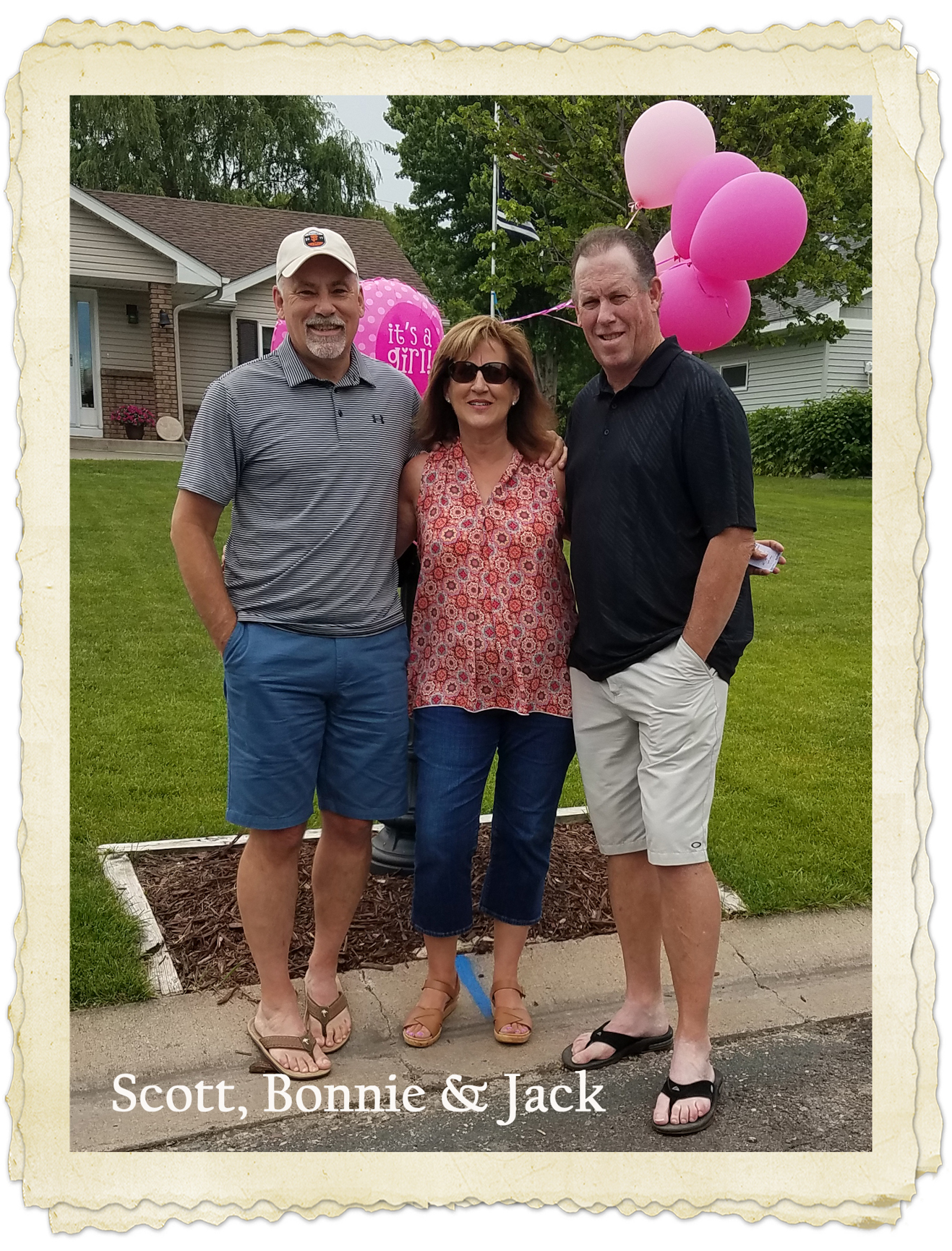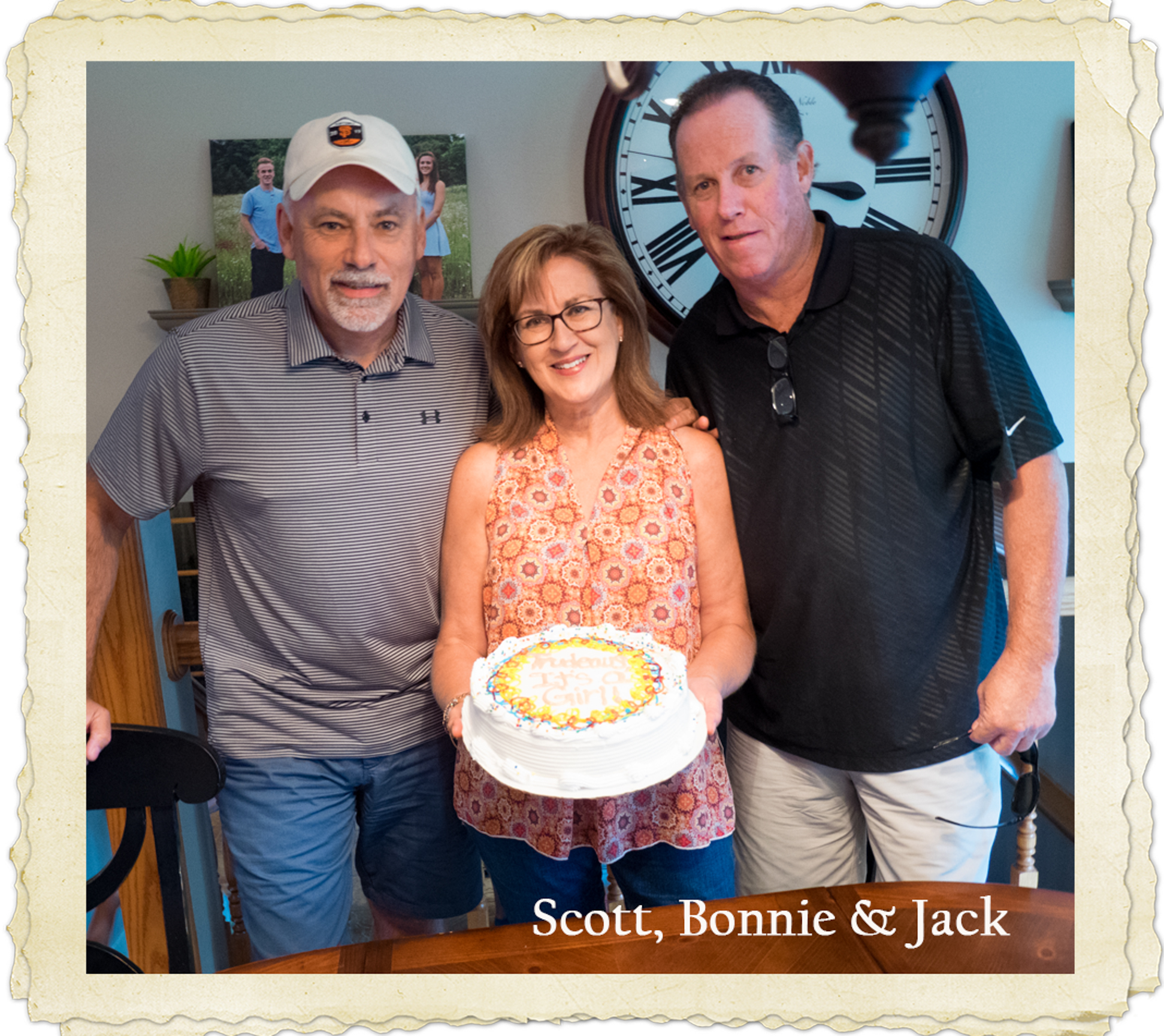 It was time; we went out to meet Bonnie, Steve, daughter Brooke, daughter-in-law Noelle, and the grandchildren, Winston, Hazel, and Ruby & Baker. Introductions and hugs, all around a few quick photographs and we were off and running. Speed dating in person, the conversations flowed, the little ones played… all chatting about how it felt for each involved, what did they think, who did they tell… can you believe this?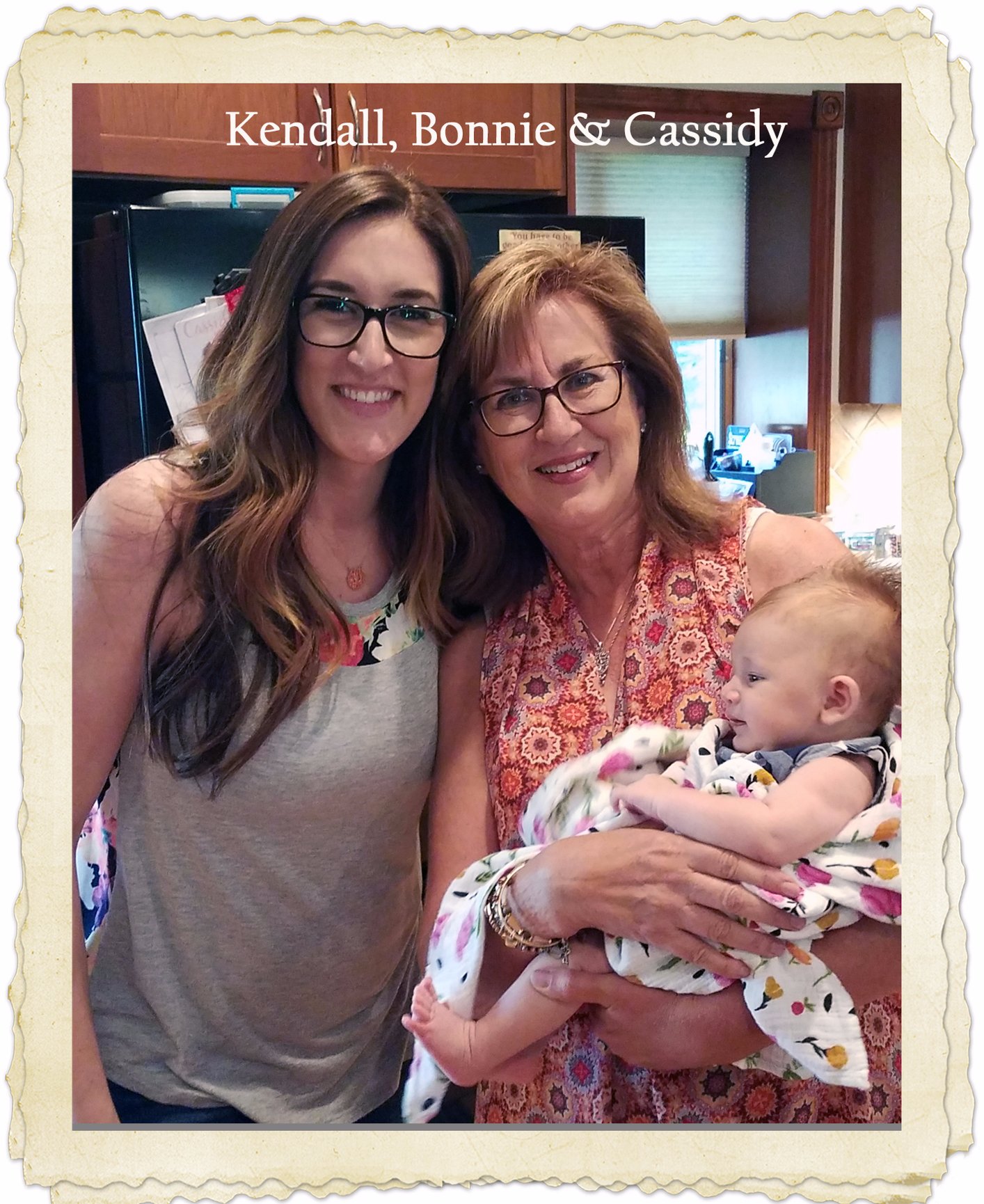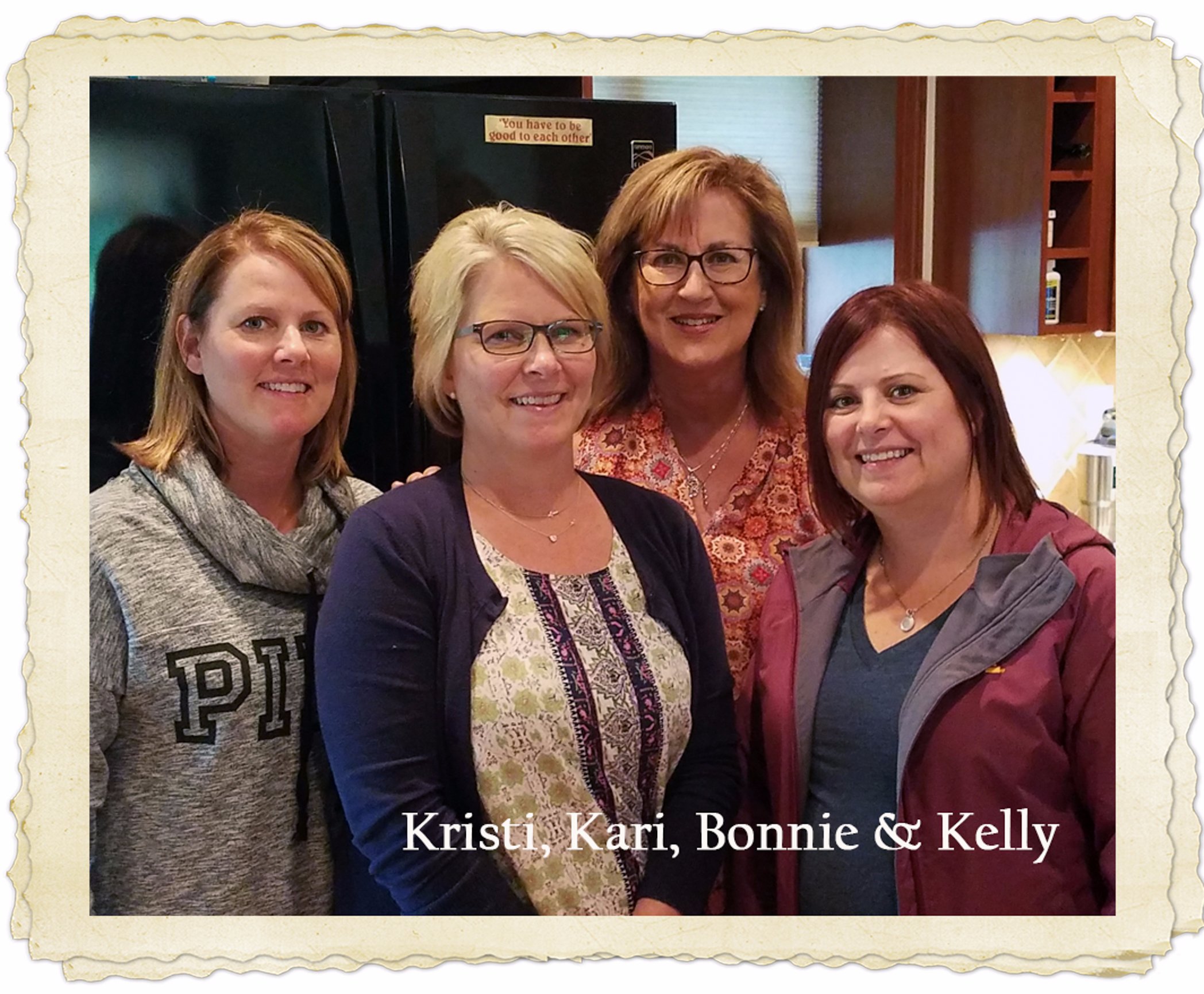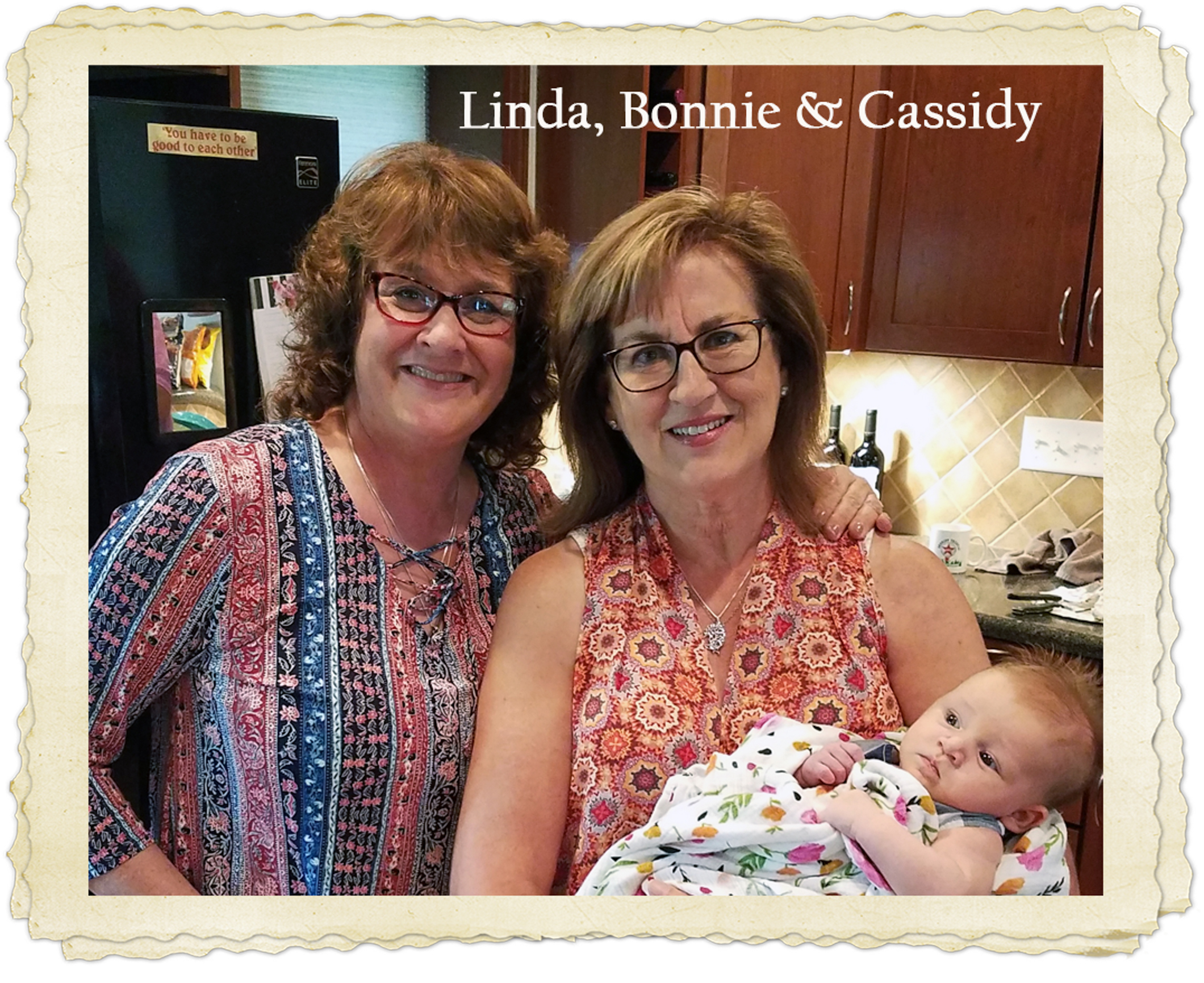 Our afternoon gathering, the meal, the stories, getting to know each other. Photo-slideshow, sharing some history along the way, seeing the family resemblances in several generations was crazy fun. Time to finish for the night, exhaustion all around. We'd already planned a 2nd day, touring Forest Lake, paying our respects at the cemetery, and sharing another meal in Stillwater, MN. During the touring we had 2 vehicles; with the cell phone open lines listening to Scott narrate in the first car as we extras listened in the 2nd car, what fun! Finished with lunch and a stop for Nelson's ice cream.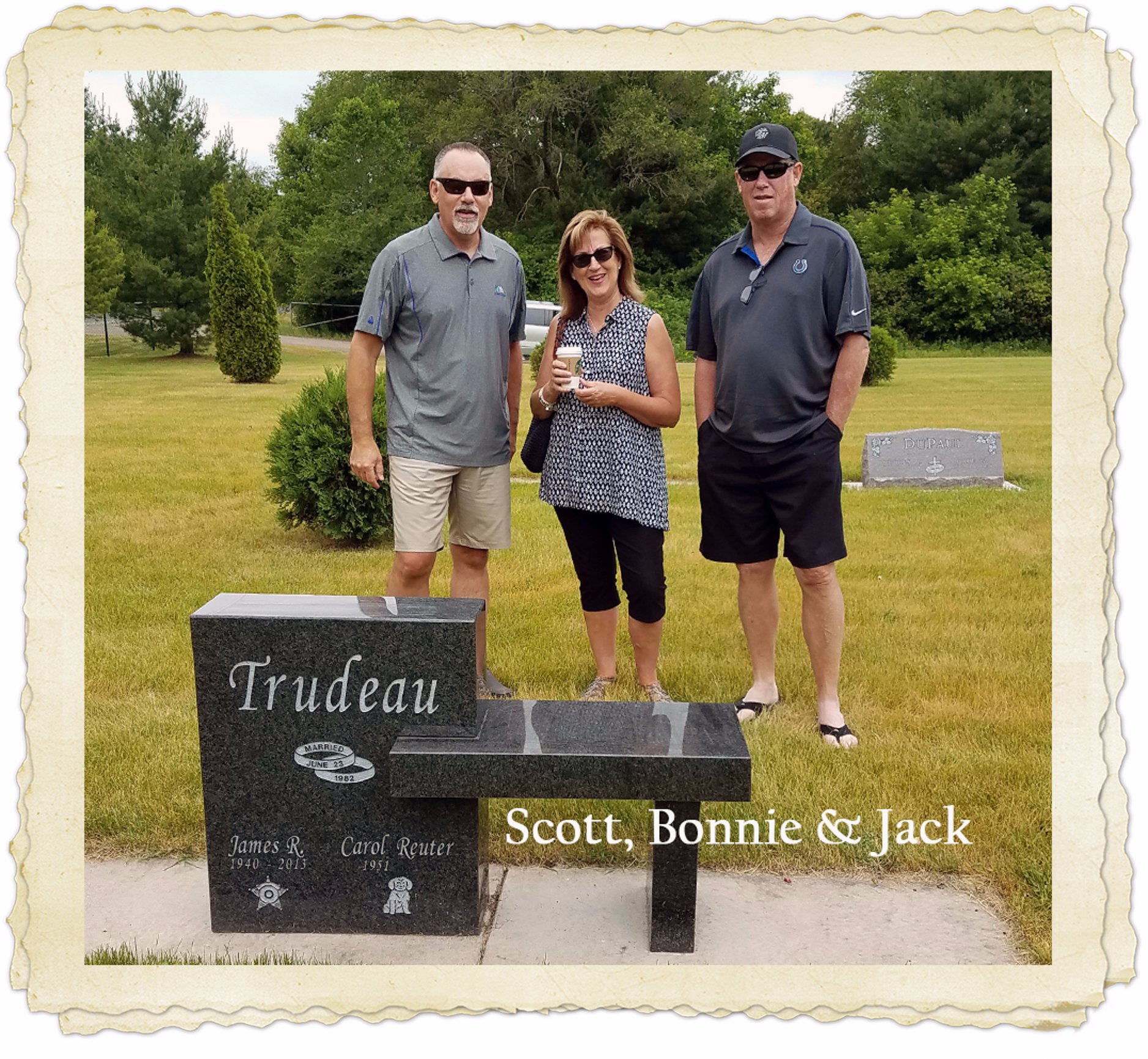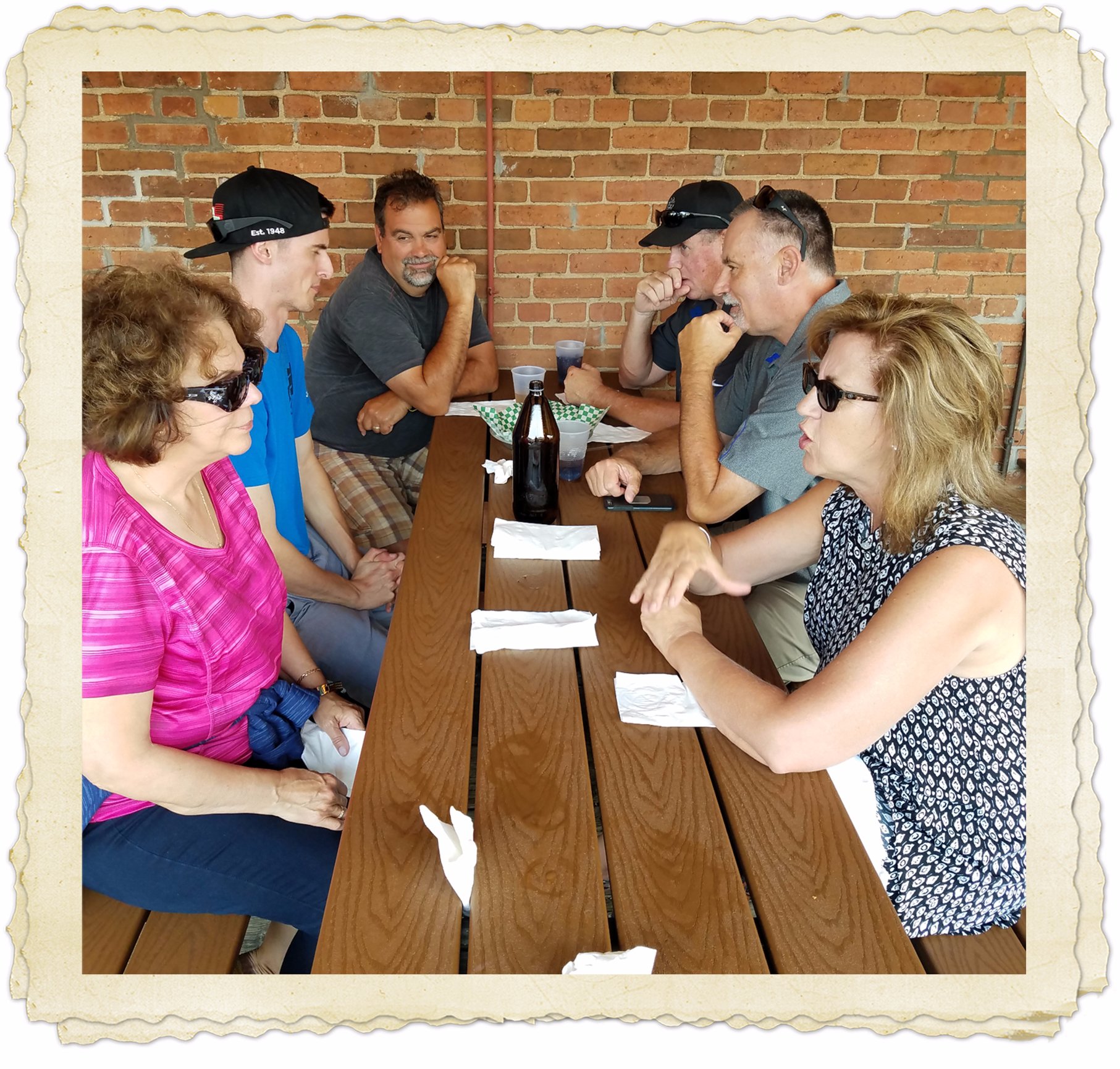 To say we were wiped out emotionally & physically by the 2nd afternoon, was an understatement. We just had to call it, we all did and set a tentative time for the next meet up, in Iowa. The messages have been flying all over again, "can you even believe this," "this is so easy," "you all seem to fit together,"….
As were looking at the photographs again of Jack in his baseball uniform, his number is 23, hmmm one of the DNA companies is "23andMe…" wow.